Wedding guest dresses make us go wow! And they have never been so much in the news than in 2018 - what a year for humdinger weddings. We had two royal weddings and umpteen instagram weddings to goggle and coo over. Here is our pick of the best from 2018 - what's your favourite?
Wedding Guest Dresses Make Us Go Wow!
Let's face it, you can never have enough of looking at wedding pictures, whether you're tying the knot, or not. We all love being ringside to the fashion choices of both the bride and the wedding guests in all their glory. Little Black Dress takes a look at the most memorable moments from 2018 weddings, both the royal ones and the ones from Insta - we'd love to hear your views. What was your best dressed wedding (or worst)? Send us your pictures. We want to see the best wedding guest dresses make us go wow and these will be published.
Firstly, number one on our list of 'best wedding guest dresses make us go wow' has to be the May royal wedding of Prince Harry and Meghan - we simply adore
Meghan and Harry's wedding day
. The minimal wedding gown was such a welcome surprise - with echoes of the great fashion icons we all love aka Audrey Hepburn. And the after party gown - well, what can we say but wow! All hail Stella McCartney. . .
Priyanka Chopra's Wedding Guest Dresses Make You Go Wow!
Meanwhile, who doesn't love a 75ft long veil designed by Ralph Lauren no less? Headaches aside, the wedding pictures of former Miss World Priyanka's marriage to singer Nick Jonas are mouth-watering. Splashes of colour are a must if you're contemplating a more Indian style wedding. Our brand Jywal have some excellent choices. Priyanka, an Indian actress with a staggering 34.1 million instagram followers, took her wedding to the next level with three wardrobe changes. Who actually has a pre-wedding look? If you haven't yet organised one, now is your time to pull an outfit out of the hat.
This custom-made style by Ralph & Russo, the off-the-shoulder top and wide-leg pants combo featured a sweetheart neckline and draped silk chiffon straps, and was hand-embroidered with gold crystals and glass beads. We think this makes a perfect wedding guest outfit - try our
Caption: Outfit Inspo: Try our Stephanie Pratt sequin peplum jumpsuit paired with La Bante clutch and a Code Beautiful lip plumper
Mandy Moore Goes Pink - the Perfect Wedding Guest Option
Meanwhile, actress Mandy Moore married singer-songwriter Taylor Goldsmith last month. Her dress – a high-necked, pale pink rather than traditional white – was designed by Kate and Laura Mulleavy of Rodarte. We think pink is the perfect wedding option for 2019 - both bridal and wedding guests alike could benefit from the romantic hue. Be lacy and as frothy Mandy's wedding dress and opt for subtle, candy floss tones of pink - one of our top on the list of 'wedding guest dresses make us go Wow'.
Gwyneth looks spectacular in her Valentino dress when she married Brad Falchuk at her home back in September. The trend for capped sleeves is one to watch forwedding guest dresses for summer 2019. Also keep an eye out for key-hole backs with dashing of romantic lace. Apparently, Gwyneth changed into a jumpsuit later, reportedly designed by Stella McCartney.
We love D.Anna's lace midi dress in dark apricot for an echo of the capped sleeves and lace. Or try this Little Mistress pink midi dress.
Princess Eugenie
Meanwhile, the end of summer brought yet another Royal Wedding - and although it was with less pomp and ceremony of cousin Harry's, this was no small affair. Princess Eugienes dress was made by Peter Pilotto and Christopher de Vos. Her gown was reported in the press to be inspired by previous royal wedding dresses and reminiscent from places the bride and groom held fond memories of. And the decision to use a low cut back was something which really resonated with the public - as Eugiene chose to show off her operation scars to highlight her scoliosis correction. We saw a wealth of stars such as Robbie Williams, Liv Tyler and Cara Delavine.
There was a definite focus on navy blue midi dresses at princess Eugenie's wedding. We love Raishma's Couture floral dress for its floral navy vibe.
Or Aidan Mattox's
off the shoulder blue midi dress
is a sure wedding guest winner. Wear with a touch of
Goddess lipstick by Daniel Sandler.
The Duchess of Cambridge looked amazing in her stylish fascinator - try one of our
Nataliya Couture hats
for an instant royal pick me up, see below.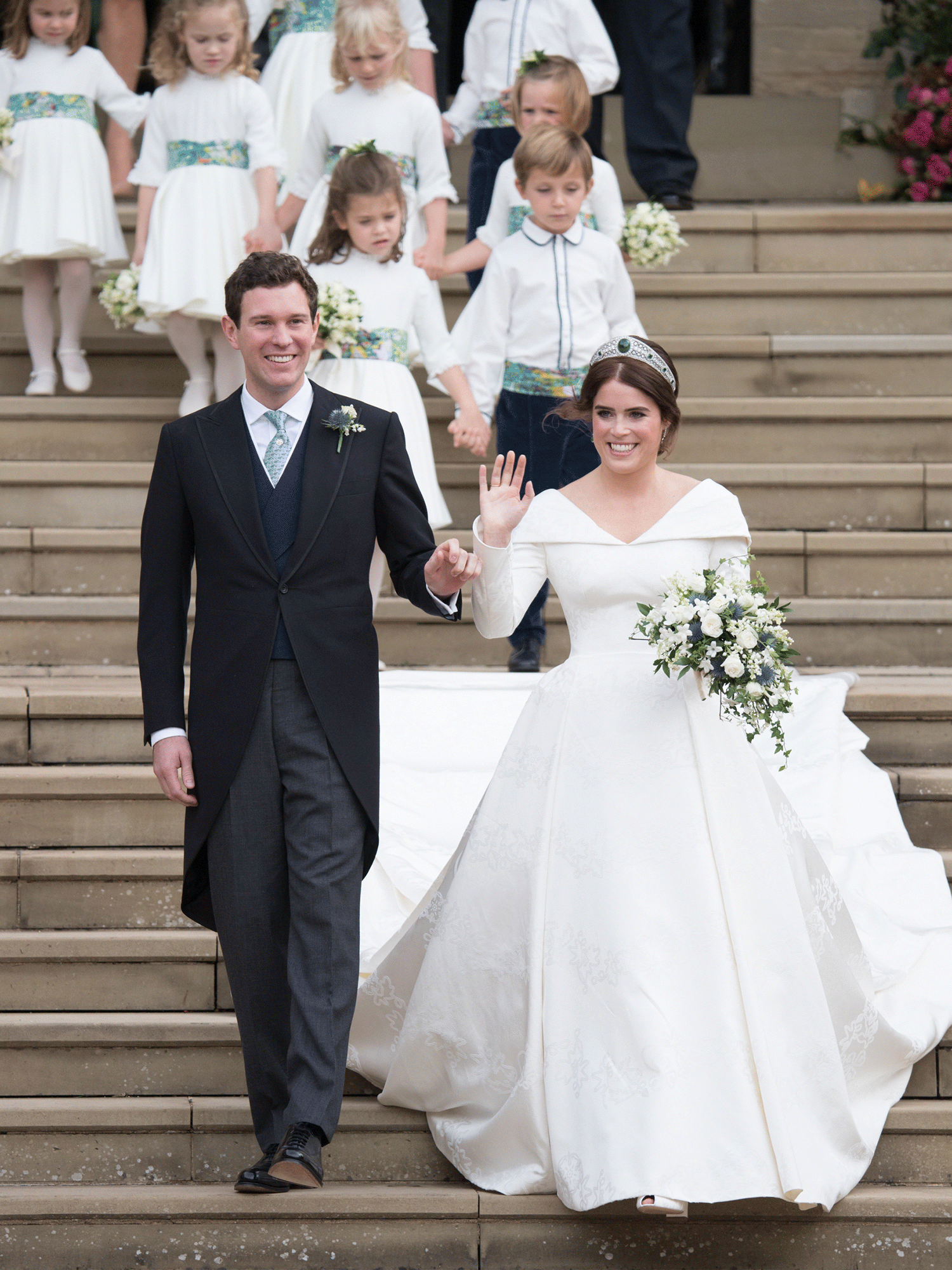 Just what does an international fashion icon wear to ones own wedding? Nicole Warne opted for simplicity and used the backdrop of New Zealand's Lake Wanaka as her star theme. Her dress was a Valentino Haute Couture dress. We love the cut-out top, floral embroidery and silk veil.. And then there was the ruffled Oscar de la Renta gown that she wore for the reception and the Dion Lee slip dress that she changed into for the evening's celebrations, not to mention the custom Michael Lo Sordo gown for the next-day brunch. Hmmm, we are loving the four dress options - perhaps this could be a new theme for wedding guests too? We hope so. . .
Try our
Adrianna Papell range
for a similar bridesmaid vibe. For a simple wedding guest vibe try our vegan friendly range of dresses from
Sarvin
The finishing touches are so important to any wedding guest outfit. Try our Johnny Loves Rosie selection of
emerald clutches
and
sparkly emerald jewellery
.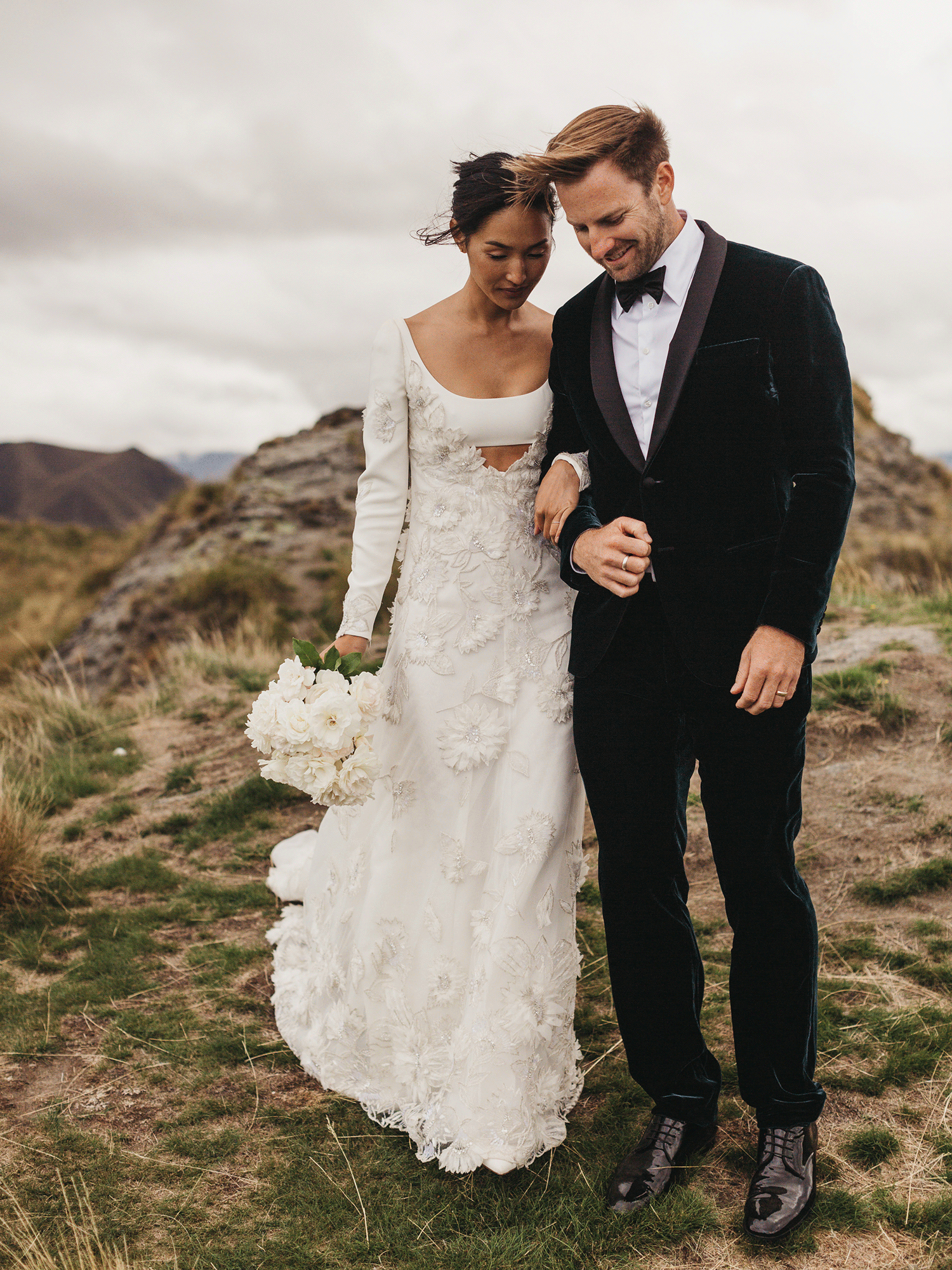 Caption: spaghetti strap maxi dresses are perfect for a romantic bridesmaid look. See our Adrianna Papell range. Emerald green is also a new trend for 2019. See Sarvin's range of vegan dresses.
Chiara Ferragni - Wedding Guest Dresses Make Us Go Wow
This is a major fashion influencer who has a 15million following on Instagram and shot to fame with her blog The Blonde Salad. The former law student's wedding to Italian rap star Fedez was a dream wedding with no expense spared. Her dresses – both custom-made by Dior – were spectacular: a crocheted lace playsuit under an enormous tulle skirt for the ceremony, and an embroidered pale pink dress that transformed into a mini once the skirt was removed.
We have a Goddiva dress which has a dual purpose perfect for dancing the night away. Try the
Goddiva 2-in-1 dress
for a wedding guest dress that makes us go wow.
Tired skin and have the invite for a winter wedding? Perfect for long days as a make up base, discover the new in beauty balance oil to help hydrate all day long.