So you've been RSVP-ed and need an outfit fast. Read our blog for some top tips and hints to make this day extra special. . .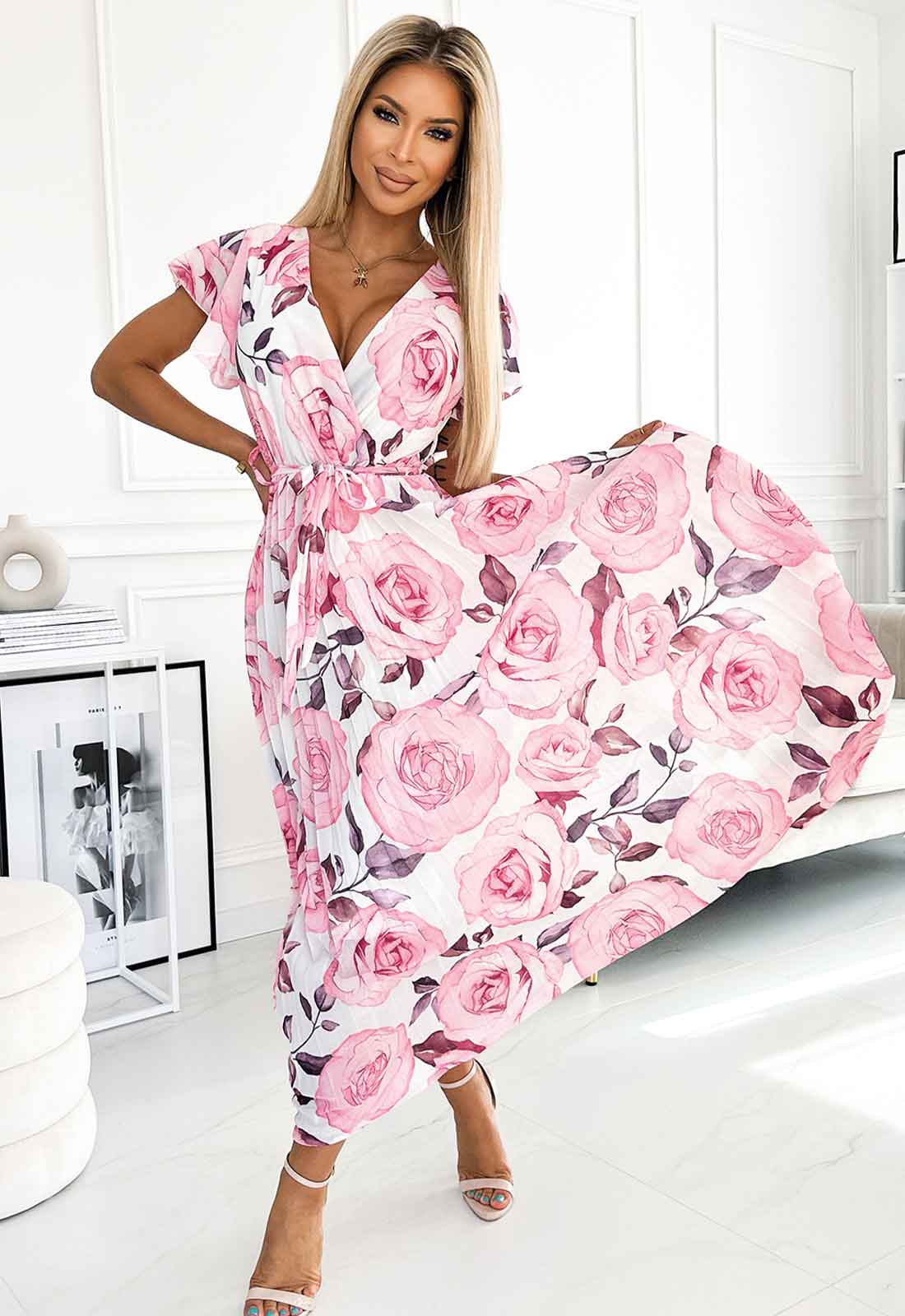 Our Lisa – Say it with Flowers
The sun is shining, Spring/Summer is in the air and the best way to say 'I do' is with flowers. Don a floral bouquet with our lovely range of new in print flower dresses. Perfect for wearing day to night, some of our new additions are a uni size one fits all. Pair with sexy heels and add romantic curls for a great wedding party outfit. pictured above is our LBD Exclusive Lisa dress which now comes in a range of colours featuring crystal pleating.
What to Wear for a Wedding – Pink
Be pretty in pink with this gorgeous new arrival, the Pink Riri Dress sure to be a winner for both weddings and race days. It's kimono style fit is elegant in a satin pink print with floral artistry. Pair with mid kitten heels and wear your hair in an elegant updo. Add earrings, we love these Always Chic gold earrings, just £7.99
Step into Summer
Discover our new range of heels from Miss Diva to finish off your perfect aisle style. Diamante seems to be a popular theme this new wedding season and if you're wondering what to wear to a wedding look no further. Affordable and value, those are the two words we want to hear as the economic crisis hits, see out full range of shoes that fit this bill. We love the kitten low heels in a range of primary and earthy colours, cute.
The Modest Wedding Guest
Family celebrations are full of fun and sometimes stricter dress codes. Should you wish to look fabulous whilst also covering up, we have a splendid selection of stunning gowns ideal for all your occasions, whatever your faith. Gowns covered in glittering embellishments are perfect for brides and VIP wedding guests alike. Browse our selection of Raishma Couture and Jywal London celebration dresses for the perfect modest look.
Satin Saviours – What to Wear to a Wedding
Meanwhile, should you wish to choose a more simple 90's fashion look, opt for a new range of satin dresses from True Decadence. These wrap over midi dress outfits are beautiful for bridesmaids and the guest of honour alike. In a simple palette of colours, the Serena wrap dress ticks all boxes. See below.
Heel to Toe Glamour
Dress to Impress – Jacket Included
Toast the bride and groom in style with our many dress and jacket combination outfits. These are ideal for those who struggle to put together colours and different layers. All the work is done for you. Our Lily dress and jacket is perfect for adding a fresh new look to your outfits, see below. It's both classy and has a designer feel, great for VIP guests raising a glass or two before hitting the dance floor.
Shop Wedding Guest Outfits here
Night Outfits – Evening Guest Only
It can be a tad awkward arriving to a wedding as an evening guest. Sometimes, there's often a lull in proceedings when the family and day guests take a breather after their celebraton meal. They refresh their make up and often shed a layer, but they are mostly still dressed to the nines. Make sure you don't let the side down. Dress up like your life depends on it. We love wearing black for a wedding evening do, and we have loads of black styles to choose from. Our Little Black Dress range showcases bodycon and glamorous sequins. Or opt for our Nazz Collection shorter mini styles great for cocktails and raising the energy so that the somewhat jaded day guests can carry on into the small wee hours.
First time Discounts
New to Little Black Dress? Join 11 million others who love our style. Sign up to our newsletter subscription for what to wear, discounts and offers. You will be the first to know about new releases such as this gorgeous watercolour wedding guest dress, out soon! Watch this space. . .
Sign up to find out when this Watercolour dress is being launched. . .