It's official: Lord Fellowe's Emmy award-winnning period drama Downton Abbey has gushed back into our lives with a brand-spanking new third series this September. And the best bit about it is that Downton has roared into the 1920s- which can only mean one thing… a delightful 20s makeover to the on-set wardrobes for us all to feast our eyes upon!
Yes, with the doom-and-gloom of WW1 happily behind us, it's finally time for the new brightness of the roaring 20s to work its magic on the costumes of the Downton cast.
Wave goodbye to the tight restrictive corsets, buttoned-up evening wear, elbow-lengthed gloves and rustling petticoats of the Edwardian era that pervaded our screens throughout the first two seasons, and prepared yourselves for flocks of 20s –inspired frocks that will have us lustfully hankering after those golden days in which Fashion took its first bold strides into a revolutionary, new modern era.
The ITV series that cronicles the story of the aristocratic Crawley family has been heartily adopted by the fashion world. Last season's catwalk designers, such as Ralph Lauren, embraced the Downton-inspired Edwardian trend of English heritage tweeds, tailored jackets, fair isle knits and hacking jackets. This season, we wait with trembling anticipation for the glorious bobbed hair cuts, low-waisted dresses, straight-line boyish cuts, rising hemlines, and cloche hats that are creeping into Downton Abbey to spread like wildfire amongst fashion's elite.
The 1920s Glamour
The 1920s were all about a large dose of Beyonce-style female independence, with women spurring itsy-bitsy undergarments in favour of relaxed, diaphonous frocks with adrogynous cuts and rising hemlines… And this season's Downton Abbey is chanelling some serious Girl Power. Hailing the slightly hesitant Crawley women to 'throw their hands up at me' (perhaps not literally…) is Cora's fabuously flamboyant American mother, Martha.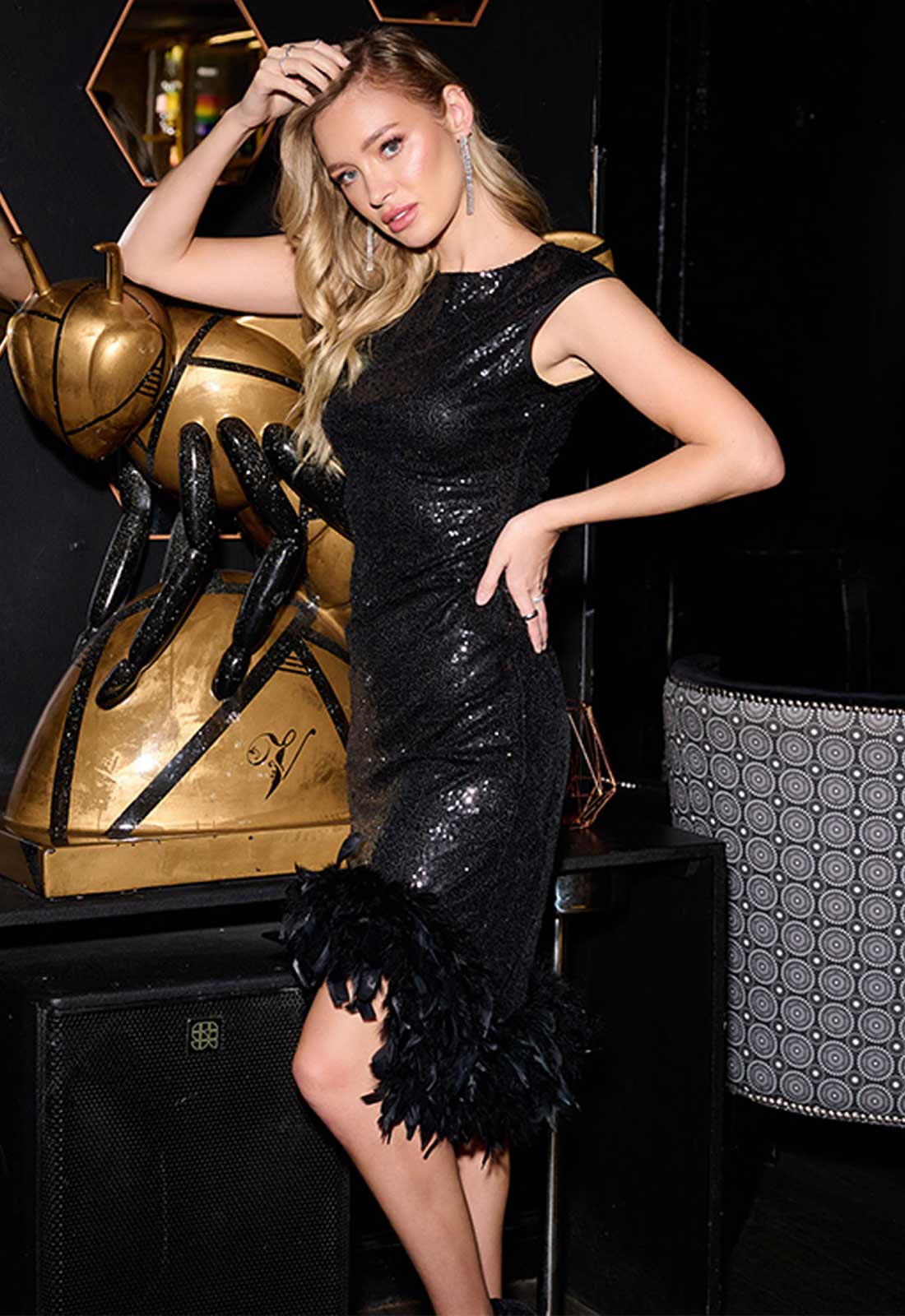 Like a great gust of the modern era, this leading lady swept onto our screens heavily clad in opulent furs, jazz buckled shoes, shocking red lipstick and Marcel-waved locks. Martha swans around the set dripping in long, pendant gem necklaces, dangling earrings, whilst cloaked in lavish velvets, heavily embellished frocks and fantastic feather headpieces. Lady Mary looks as pretty as a picture in a floaty diaphonous, low-waisted, long-sleeved wedding dress and an array of sleeveless, loose frocks with a clean-cut simplicity that Coco Chanel would be proud of. And with this new look, Lady Mary takes charge, worrying over the financial state of Downton (crumbling, of course, at the hands of the men….) and reprimanding her fiancee for his nonchalant attitude- you tell 'em!
Cora
The elegant Cora looks particularly fetching in 20s gear, greeting her mother in a simple, long-sleeved black shift dress, with simple lines and a pretty floral motif on the neckline. The ankle-bearing number flashes her black buckled shoes, a pair she could potentially use to deal with a sobbing husband who has just shockingly squandered her entire fortune. Instead, Lady Crawley takes the news astonishingly well- but then, we suppose, she is swathed in a gorgeous peach satin peignoir and how could a girl feel anger in that?!
Read our Blog Fall in love with Gatsby
It's only the beginning… Team LBD cannot wait for the 20s fashion to escallate as the season continues. Will Lady Edith desperately don the flapper frocks, cloche caps and ropes of pearls to catch herself a husband? Will Lady Sybil whip out fabulous feather fans to assuage her pregnant flusters? We want to see hoards of headbands, statement necklaces, opulent jewels, low back dresses peppered with intricate embroidery, beading and embellishments, and tiered and fringed flapper dresses twirling around our TV sets.
What's so fabulous about this season's 20s trend, is that it is so translatable… Channel your own 20s look with littleblackdress.co.uk.
Try our new collections for the perfect LBDs, you wouldn't look out of place swanning across the ballrooms of Downton Abbey in our delectable numbers. Team with black buckle-strap dancing shoes, dangling jewelled earrings, a beautiful 20s-inspired bejewelled brooch pinned at the hemline, and ropes of pearls and tassle necklaces to perfect the look. Finish with an ornate embellished clutch bag and feather headband and away you go! Cha-cha-Charelton your way into the night…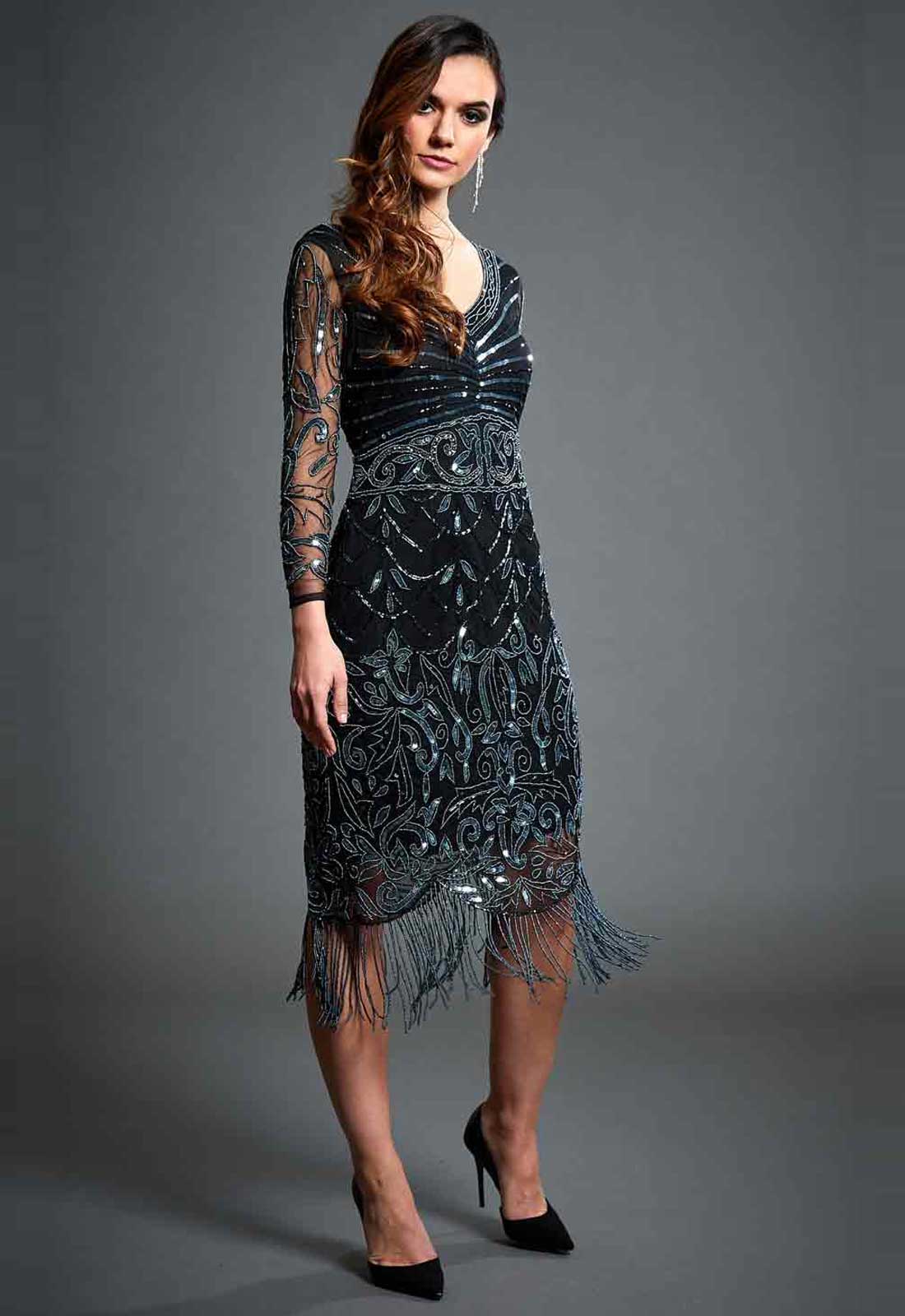 ShopFlapperdresses