Classy, fun and always up for anything. No, we're not talking about your best friend but the famous little black dress. From 1950's icon Marilyn Monroe, to today's style icon, Kim Kardashian, these women may be famous for the little black dress but are living their life in colour.
In 1926, when the first little black dress made it into Vogue, the LBD was said to become 'a sort of uniform for all women of taste'. Unbeknownst to many, Vogues prediction would be spot-on, becoming the most iconic wardrobe essential for every woman. Before the fashion world could blink, the little black dress was seen everywhere.
Although we have already written about the history of the Little Black dress and its impressive evolution. We have yet to give an in-depth guide on how to recreate the famous little black dress looks. Here's how to put together the most famous little black dress looks.
Coco Chanel
Vogue published a drawing of a simple black dress in 1926. Titled as 'Chanel's Ford', it was classed as a simple piece, accessible to women of all classes. Coco Chanel was the inventor of the little black dress. Pictured here in 1935, Chanel wore a knee-length, tight fitting black dress. The Gorgeous Couture Olivia Midi Dress in Black matches the same understated elegance with a demure high neckline and matching silhouette to that of Chanels'. The sultry low back updates this simple LBD as does the Closet London Black Puff Sleeve Pencil Dress.
The Audrey Dress – now available in our black dress category

Audrey Hepburn
Whilst Coco Chanel planted the seed, it was Audrey Hepburn who grew the craze that is the little black dress. Spotted in three little black dresses throughout the famous 1961's movie, Breakfast at Tiffany's. The opening scene holds the most famous little black dress of all time, made by Hubert de Givenchy. This resulted in Hepburn quickly becoming the most iconic woman of the LBD. Known for living her life full of colour but with a simple wardrobe to contrast. Breakfast at Tiffany's remains to be the most sought after fashion inspiration for the perfect little black dress.
We think the Goddiva Black Halter Neck Open Back Maxi Dress is a stunning modern twist on the iconic Breakfast at Tiffany's look. Featuring a fishtail and bodycon fit to hug you in all the right places. The open back and keyhole adds a touch of seductiveness that would otherwise be frowned upon during Hepburn's time. The dress encompasses beautiful embellishment detail that mimics Hepburn's pearl necklace. This essentially gives you two purchases in one and thus, we believe it is a great dress to invest in. If however, you want something with a little less drama, the Sarah Jessica Parker  Dress in Black is a beautiful velvet alternative.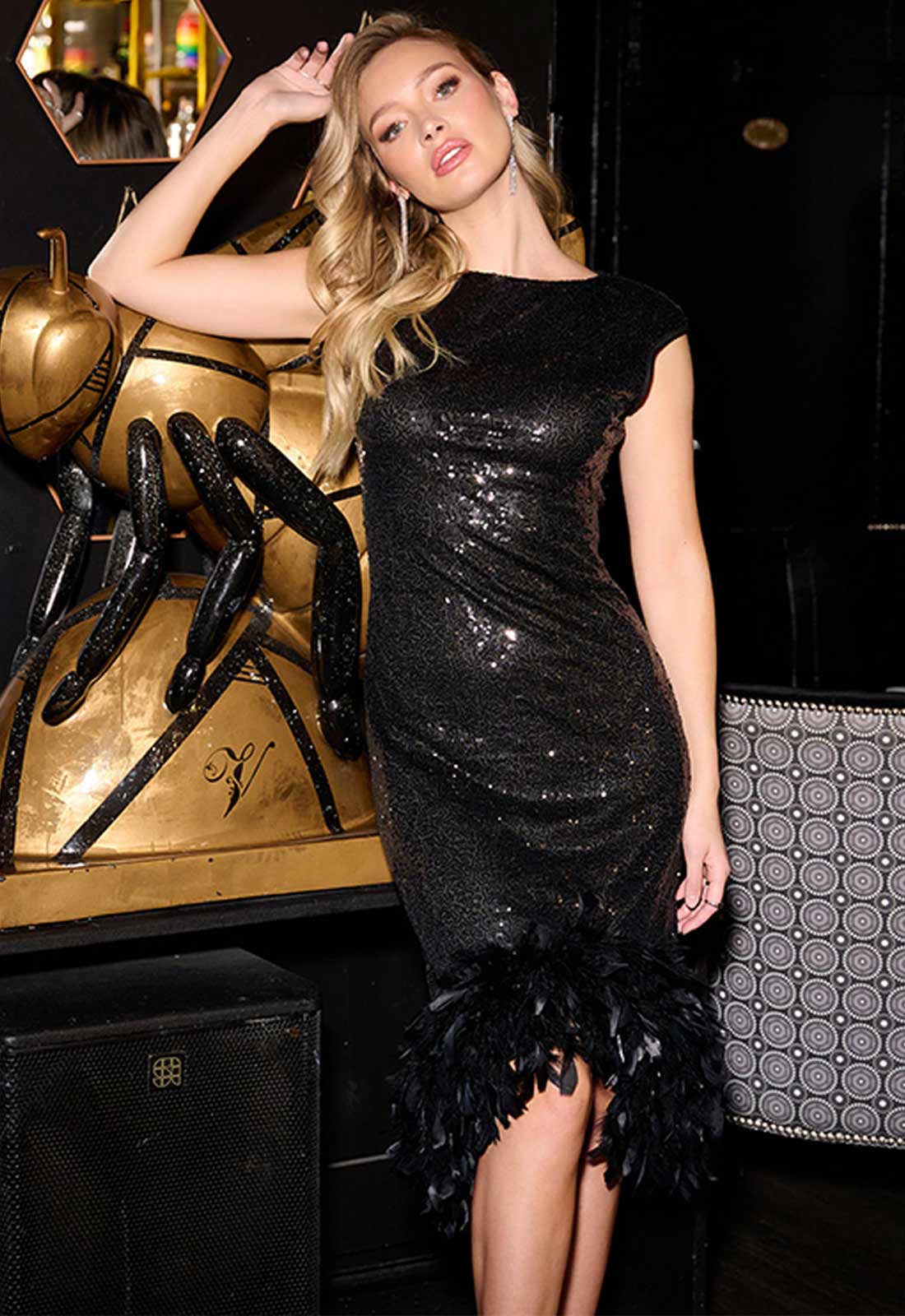 The Sarah Jessica Parker dress in sequins with feathers, available now
Victoria Beckham
Victoria Beckham is one of the most iconic fashionistas of today. Moreover, she is well known for wearing the little black dress. From singing in the Spice Girls to walking the streets of London twenty years later, Beckham can still be found in a cute LBD. In 2013, Victoria Beckham stepped out in a chic ladylike black dress that we think is simply darling. For a similar classy look, we recommend the LBD range of dresses. Featuring  round necklines and short sleeves, this unique kimono design is the ideal LBD for both the desk and a party.

Beyoncé
Brining the glamour back to the little black dress, Beyoncé was the talk of the red carpet in an LBD by Riccardo Tisci at the 2014 Met Gala. To match her attention-grabbing look, we recommend the The LBD Gabrielle Dress as it oozes sophisticated glamour. If this gorgeous show stopper isn't quite tickling your fancy, have a peak at the D.Anna Sequin Embellished Maxi Dress With Sheer Fishtail Hem in Black to recreate Beyoncé's bold beauty.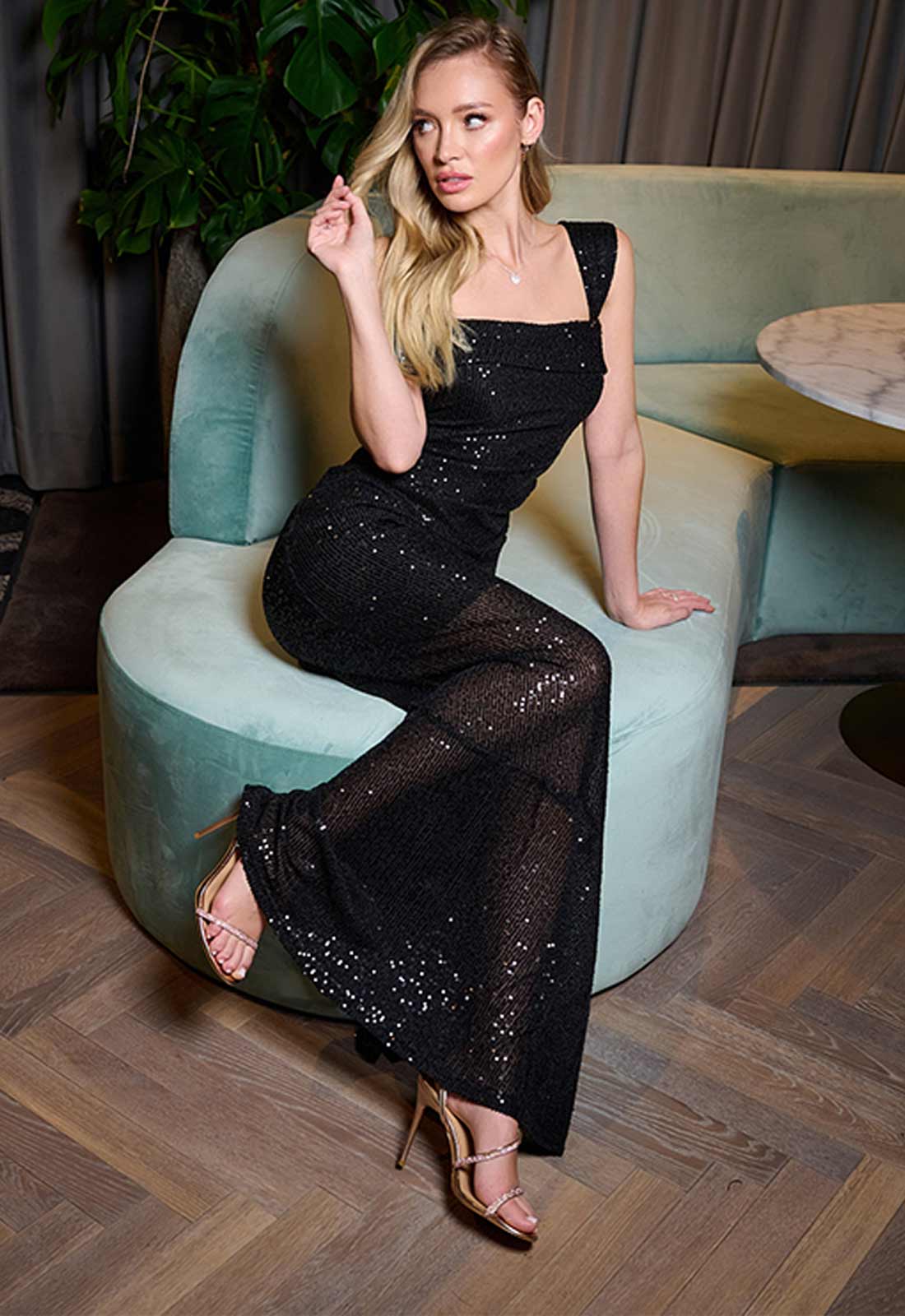 The Gabrielle now available to buy now.
Megan Markle
New style icon, Megan, Duchess of Sussex wore an Emilia Wickstead in May 2018. Mixing casual with classic, she reveals how well a little black dress can work for everyday wear. To recreate the same vibe, we recommend the Gina Bacconi Black Cheryl Metallic Chiffon Dress. For something less flowing, the Gina Bacconi Naomi Frill Dress in Black offers a similar style with a flattering fit also.
If you are an avid lover of the Duchess of Sussex's fashion sense, then we think you need to take a look at the Honor Gold Donna Black Midi Bodycon dress. This is a very fitting dress for Markle's style before marrying Prince Harry and would work great for office wear.
Be Famous for black
Despite the evolution of fashion, the little black dress remains the ultimate classic. Proving it's versatility by these fashion icons. Therefore, we think that every woman needs a LBD in her wardrobe. We think that this is the dress to wear on repeat and can literally be your best friend. Saving you from the stresses of tearing your wardrobe apart when you can't find what to wear. Could you be the next 'it girl' famous for wearing black and living life in colour? Shop all of our little black dresses here.