The fashion world has been manic, recently, with New York and London fashion week. The new collections from designers filled up the catwalk. On the contrary, at Little Black Dress, our eyes were on the guests, inspiring us with their savvy street style looks.
We've put together the best looks from the past two weeks, complete with the all important sartorial knowledge on how to recreate each look. Read on to uncover this years hottest street style trends.
New York Fashion Week
Spotted at NYFW: Create a killer silhouette with the blazer dress by Kands London (now sold out but new stock coming soon).
Seductive Silhouettes
First of all, the trendsetters at New York fashion week were seen in killer silhouettes caused by a Cinched-in waist. The classic blazer dress, is the perfect piece to get on to this style statement. Thus, we recommend you channel your inner elegance in this gorgeous blazer dress by Club L London. We also recommend accessorising with the Gatsbylady Vegas Vintage Inspired Hand Embellished Clutch Bag in Gold.
Spotted at NYFW: Be bold with prints in the Ariella Printed Cold Shoulder Maxi Dress in Teal.

True Decadence floral tea dress perfect for spring style
Pop of prints
Spotted on the streets at NYFW were an array of darling prints. We think this is the perfect inspiration to get your wardrobe spring ready. Our is a beautiful option for this bold trend. You are guaranteed to stand out in the crowd wearing teal. In addition, this dress also features flowing sleeves, and therefore, will work wonderfully for the next up and coming season. If it feels a little bold, we think opting for a natural makeup look is a great way to tone the colourful print down. Our professional stylists believe that the lipgloss is a most noteworthy choice.
Spotted at NYFW: One-colour outfits combining various textures. Get the look with the Saint A Royal Blue Back Cut Out Evening Dress.

Wearing One-tone
Hitting the streets at New York fashion week, one-tone outfits were all the rage. The trick to wearing the same colour throughout your outfit, is breaking it up with contrasting textures. We think the the Saint A Blue Caprice Back Cut Out Evening Dress is an easy alternative. Furthermore, this is another great opportunity to keep on trend for prom! For this reason, we also recommend the blue earrings for added luxury to your look.
Spotted at NYFW: Monochrome contrasted with dark neutrals. Get spring ready with the Aubrey by Honor Gold 
Pastel Perfect
The Raishma Scattered Foral Dress in Pastel Blue is a great option to stock in your wardrobe for Spring. Pastel shades and winter staples were combined at New York fashion week. Consequently, creating the perfect seasonal transition into spring fashion. We recommend you accessorise with black, such as the to tone down the pastels.
London Fashion Week
Spotted at LFW: The new trend to take over the streets. Get the printed Midi Dress, above the Thea by Raishma Studio.
Polka Dots and Spots
Spotted at London fashion week, the polka dot trend has made a come back. It is one of this seasons hottest looks and we have just the perfect piece for you! The polka dot is an elegant spotted piece that holds a lot of charm. Our new range also includes a wide variety of spotted prints. Hence, if this piece isn't quite doing it, then we are sure you will find something in our new arrivals. 
Spotted at LFW: Stripes are battling the spot trend. Make a statement in polka dots this season.
Striped out
The stripe print was also worn to make a trendy statement in contrast to spots taking over the streets, at London fashion week. We adore a striped look, due to the sheer history this print holds. For example, in the early 19th century, the pinstripe was used by London banks to identify their employees. Over time, they have become a fashion statement. As a result, each stripe type holds it's own history . Therefore, we, at Little Black Dress, think that narrating a story through stripes is a great way to add depth to an outfit.
We love the Floral dresses featuring a striped and floral print to result in a unique dress made to turn heads. For this reason, our favourite beauty product to pair with the maxi is the Bellamianta tan to give a healthy glow.  We also suggest taking a look at our print dresses to get your stripe fix.
Spotted at LFW: sequins are adding sparkle to the streets! Recreate the look with the  black Embellished Gabrielle Maxi Gown from Little  Black Dress.
Wow in sequins
At London fashion week, the Little Black Dress team were equally as excited to spot Sequins, sparkles and red and pink hues. Therefore, we believe that the Wine Embellished Maxi Gown With Cape to reach all three trends in one! This is the perfect princess dress to add some drama to your wardrobe. As it is a bold look, we think opting for a neutral beauty look will give some much needed balance. For this reason, we suggest wearing a barely there lipstick achieve this.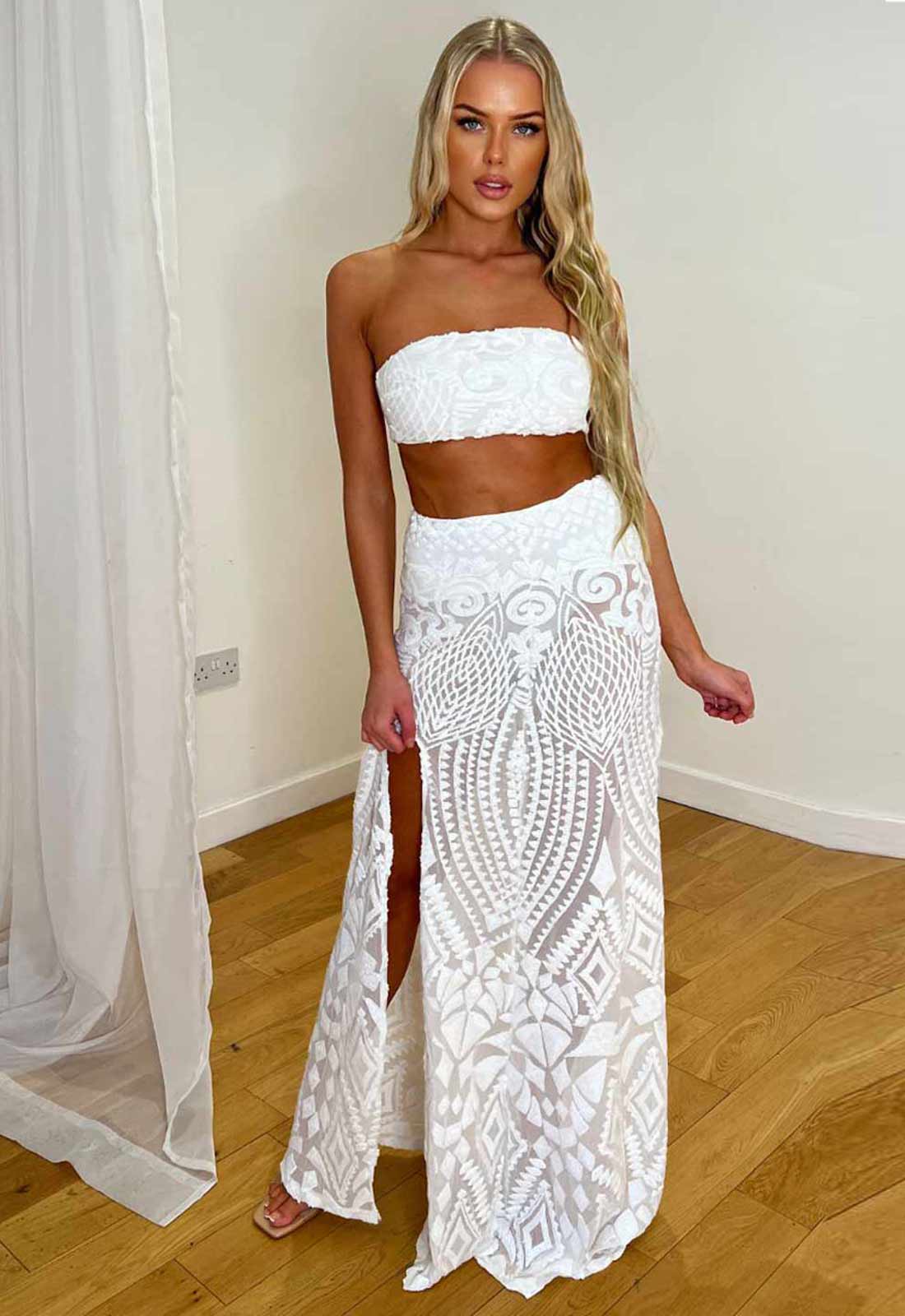 Spotted at LFW: Two pieces are the new power look! Go girl boss in the Nazz Collection range of two pieces without losing traditional femininity.
Power Pieces
Finally, LFW featured some amazing powerhouse style inspiration. Here at Little Black Dress, we love a girl boss look. Fashion trend forecasters predicted that there would be suits and two pieces at London fashion week and the guests did not disappoint. We recommend opting for a skirt two piece for something a little more feminine. The Nazz Collection Two Piece Set Shakira is a beautiful candidate. Statement earrings were also spotted on the LFW streets, we think there is no better than the  Embellished Hoop Earrings  in our collection to invest in for this cool trend.
Although celebrities can provide strong fashion inspiration, we equally think street style looks are just as beneficial. New York and London fashion week saw guests setting trends with their bold sartorial choices. In conclusion, we have found that it really is all about creating the perfect combination this year. This is achieved by contrasting colours, prints and textures to result in an outfit made to turn heads. Have a look at our new arrivals for further fabulous fashion.